With WandaVision, Marvel's phase four indeed had an amazing beginning. It made fans speculate over the next shows and movies to be released in the fourth phase of Marvel's Cinematic Universe. Wanda Maximoff the scarlet witch is one of the most enchanting character with an unparelled sense of style.
"WandaVision" based on the 90s sitcoms has seized our hearts and given us plenty to laugh and think about since it came into our lives.
Particularly, Wanda Maximoff The Scarlet Witch  is notably a powerful character in the MCU. She's serious and introverted yet has a caring personality committed to protecting innocents, and an eagerness to fight for what she feels is right.
Also known as Scarlet Witch and portrayed by Elizabeth Olsen in the show, Wanda has a unique sense of fashion too. The outfits she wore told her story while never forgetting her signature red colour.
"Thanks for the lesson…but I don't need you to tell me who I am." — Wanda
Wanda's style is best described as chic goth.
In her initial appearances in Captain America: The Winter Soldier and Avengers: Age of Ultron, she tends to wear combat boots, leather jackets, fingerless gloves, short dresses, long cardigans and over-the-knee socks.
In Avengers: Endgame, after she adjusts to her life as an Avenger, she wears more casual clothes, like simple t-shirts, skinny jeans and lightweight jackets.
Wanda has a gothic vibe in her style featuring a lot of accessories and dark colours, she favours colours like burnt red, grey, burgundy and black. 
Wanda Maximoff the Scarlet Witch's outfit is a corset and a cape or a jacket in red, with black pants and boots, all of which are completely made up of leather.
Wanda's fashion in the series~
The 50s
This era in the series was inspired by the show I love Lucy, the first episode shows both Wanda and Vision in their wedding dress and suit. Wanda's wedding dress accessorized with pearls was a tribute to Audrey Hepburn.
The 60s
Even though the second episode too was in b&w background, we see a major 60s style. Wanda rocked a boat-neck top with a cardigan and pants.
Her happy housewife look essentially had a button-up tea-length dress with a notched collar, a floral apron, matching pearl necklace and earring, low heels with a simple bob curl hairstyle.
The 70s
At this point, we see colours and Wanda's multicoloured striped maternity dress was instantly put into the spotlight.
Looks featuring, sweater vests, patchwork jackets, bell-bottom pants and ankle-length to knee-high boots were seen throughout the episode.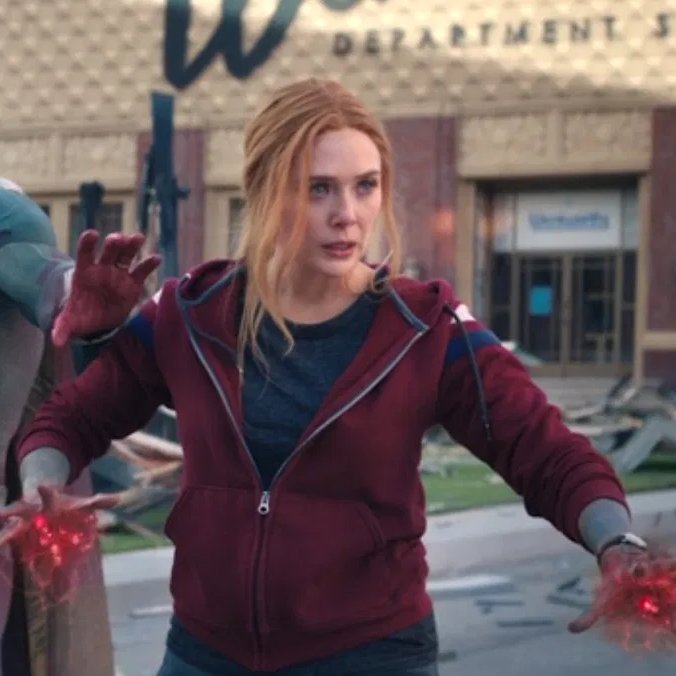 The 80s
In the 80s Wanda can be seen wearing a pair of pink high-waisted pants and a cream turtle-neck along with a floral vest and loafers to finally finish her look.
The 90s
She completely rocked the 90s with an aesthetic look consisting of folded short-sleeved plaid button-up, high-waisted blue jeans, brown suspenders, a pair of white laced red sneakers and a golden watch.
2000
This year saw Wanda Maximoff the scarlet witch in the iconic gorgeous red outfit with gloves, a headpiece, boots and cape; all in red especially worn for Halloween. This style resembles the actual look she had in the comic.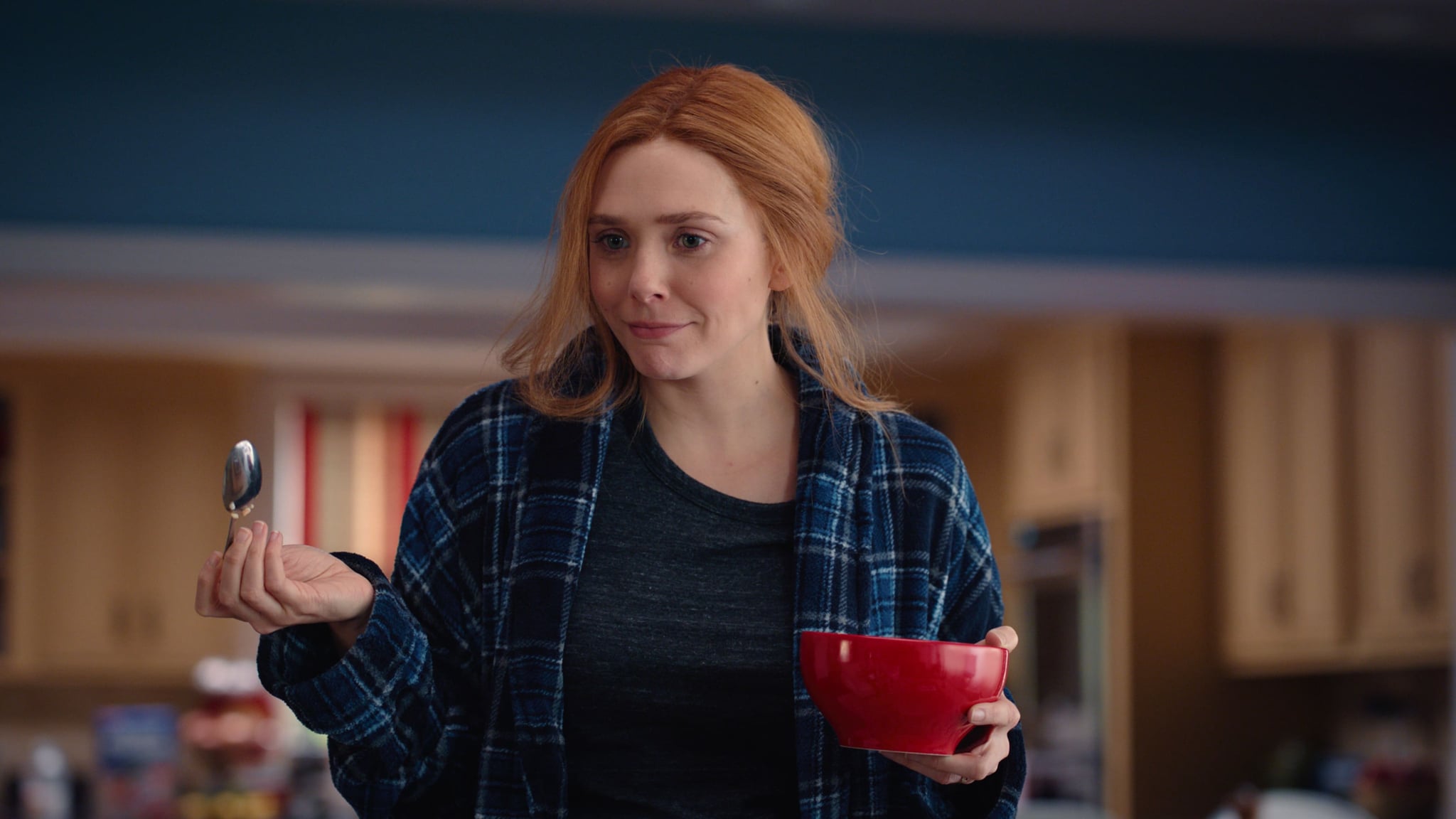 2010
Modern Wanda wears comfy looks, with simple shirts and jeans. This period reflects her emotional state, everything is falling apart in the world she created for herself. This period takes references from the Modern Family.
She can be seen donning a cosy plaid bathrobe, lounge pants, plain grey top, and grey slippers.
In the finale episode she finally accepts her powers and herself as Scarlet Witch and thus she can be seen wearing a modified version of her costume with a crown similar to the comic.
Also Read : T'Challa From Black Panther's Royal Style : Lifestyle Inspiration From Marvel